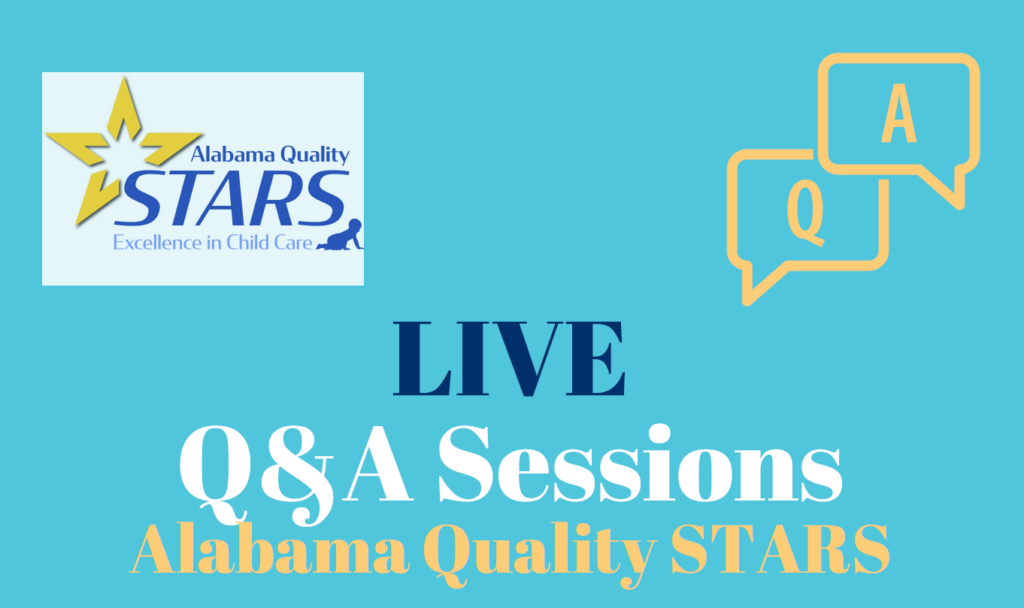 For the months of November and December, our QRIS Specialists will host live Q&A sessions via Zoom.
With all of the changes to the QRIS System for Alabama, including the increased incentive amounts, we know many programs would like to participate, but still have many questions before they commit to applying for a STAR 2 or higher. In order to help answer these questions, Alabama Quality Stars is setting up a series of virtual meetings to allow programs to ask their questions and get answers from the QRIS specialists who will be conducting the assessments. The Specialists will answer questions regarding what is involved in being assessed for a STAR 2 rating or higher, clarification on parts of the Best Practice Rubric, and more explanation on the CLASS portion of the assessment, plus any other question programs may have.
Please make sure to register for the date and time that works best for you. There is a limit of 50 participants per session. Registration will close 24 hours before the session is set to begin. An email from one of our facilitators with the link to the meeting will be sent to the address provided on the registration form closer to the meeting date or time. Please make sure to check your SPAM folder.
Session Dates and Times Currently Available:
Tuesday, November 30, 2021: 12:30 PM-1:30 PM
Saturday, December 4, 2021: 10:30 AM-11:30 AM
Tuesday, December 7, 2021: 7:00 PM-8:00 PM
Thursday, December 9, 2021: 10:00 AM-11:00 AM
Tuesday, December 14, 2021: 7:00-8:00 PM
Wednesday, December 15, 2021: 12:30-1:30 PM
Register Here!
Please complete the form below to register for your Virtual Q & A Session!*
*Note: if a date from above is not available on the form, it means it is full, or registration for that session has closed.