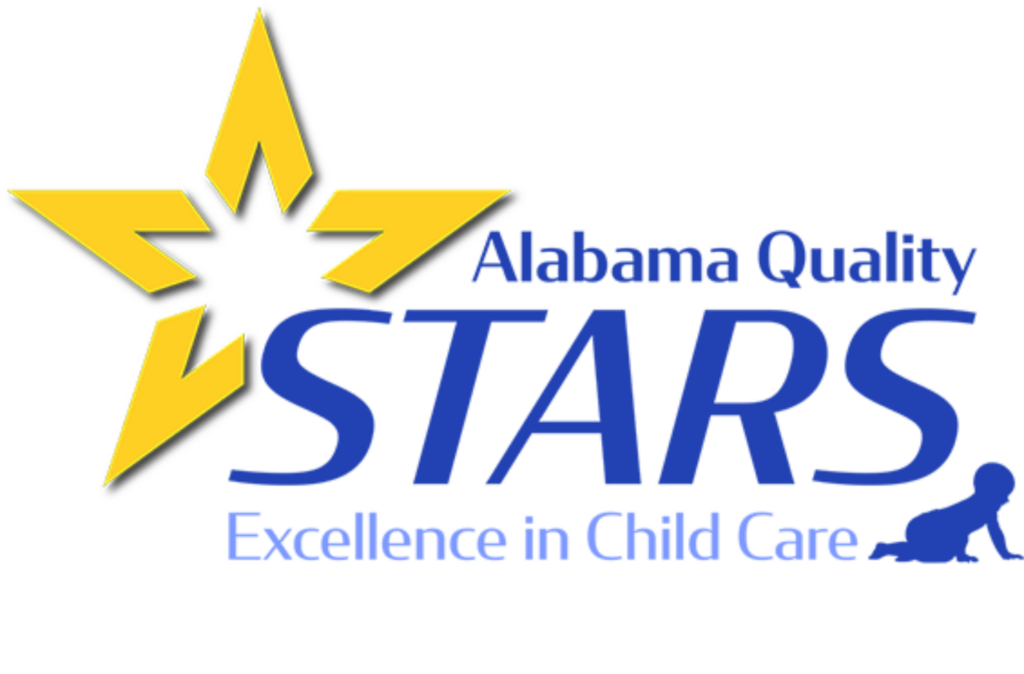 What is Alabama Quality STARS?
Alabama's QRIS (Quality Rating and Improvement System) is a partnership between the Alabama Department of Human Resources and the Alabama Department of Early Childhood Education. This system awards STAR levels to early childhood care and education programs that meet a set of defined program standards which are comprised of standardized, research-based criteria. By participating in this program, early care and education providers will embark on a path of continuous quality and improvement. Alabama Quality STARS is committed to recognizing a program's strength while providing support to develop a plan for improvement. Programs have to meet a minimum score requirement on both the Best Practice Rubric and CLASS scoring model in order to meet different STAR levels.
Click on the link above to learn more about our Alabama Quality STARs Specialists
Look for the STARS!
We are all familiar with Google and Amazon star ratings. The ratings on these platforms are not the same as the Alabama Quality STAR rating for childcare providers. Visit the DHR Childcare Locator to see the STAR ratings for all Alabama child cares.
My program has a low rating or is not rated at all. What does that mean and can I go higher?
All licensed programs that are in good standing with DHR are eligible to apply. Programs that cannot be licensed (military, public schools, Alabama Community College System, University, Tribal, etc.) are also eligible.
Some childcare programs may choose not to participate
Being STAR rated is optional for licensed programs. However, being STAR rated, levels 2 STAR or higher, means the program is going beyond the minimum requirements of quality.
So, what do they mean?
STAR 1: The program has met and maintained all licensing standards through the Alabama Department of Human Resources
STAR 2: Programs have exceeded the licensing standards and are going above and beyond to continue to build foundational quality*. They look to highlight what their program does well and challenge themselves to do more.
STAR 3: Programs have built upon foundational quality and continue to strengthen and advance it with more focus on quality teacher-child interactions*
STAR 4: Programs have empowered their teams to continue to strengthen teacher-child interactions and implement advanced program-wide quality initiatives.
STAR 5: Programs have continued to strengthen foundational quality through internal mentorship and have consistently high levels of program-wide, quality teacher-child interactions, as well as solid business practices.
*Definitions:
Foundational Quality: Programs are assessed through a Best Practice Rubric, which has been developed from research, publications focused on quality in early childcare, and feedback from stakeholders. This includes evaluating a program's curriculum, instructional, screening, and assessment practices, family engagement, professional credentials, learning environment, and overall program design.
Quality Interactions: Programs are also assessed using the Classroom Assessment Scoring System (CLASS) which is focused on teacher-child interactions that promote positive outcomes for children across age levels. This assessment includes evaluating how teachers within the childcare program meet the level of support, organization, sensitivity, warmth, excitement, and engagement needed for children to develop age-appropriate skills and behaviors.
What are my options as a provider?
You can choose between Assessment, Guided Support, and Enhancement.
Click on each link below to read more about each option.
What are some items to consider when choosing an option?
Look through this infographic to help you consider the best choice for you and your business.
---
Overall Process
Click the links below to see process maps
---
Links to Governmental Websites